Key Information
High throughput for maximum productivity

Inline feed and discharge for higher capacity and ease of system integration

Achieve various particle sizes on one machine, simply by changing screen and/or impeller

Various screens available to meet the demands of many different applications and processes

Spacerless design with preset optimised 'gap' for milling

Easy to operate

Low heat, dust and noise generation for improved working environment

Process scalability from lab to pilot to production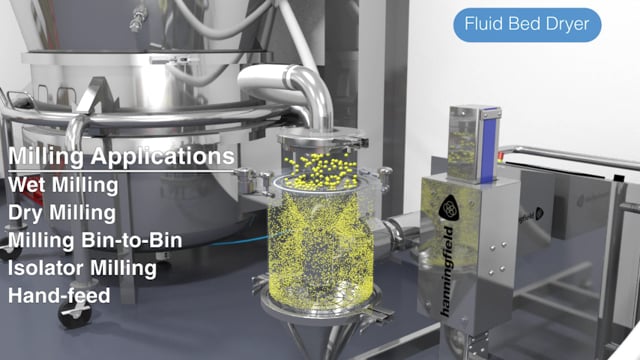 Stainless Steel Construction
316L contact parts
FDA Compliant
All seals FDA compliant (silicone, PTFE etc.)
No Metal-to-Metal Contact
Designed with an optimal, spacer-less gap (to avoid metal-to-metal contact)
Easy-Clean GMP Design
Optional features include detachable millhead for autoclave or CIP/WIP
ATEX / Ex-proof
ATEX (ex-proof) versions available
Technical Description
Design & Operation
The Hanningfield Uni-Mill U-Series (M05-U, M10-U, M20-U, M30-U) utilises the current industry standard under-driven conical mill design, featuring an IP6X gearbox-driven impeller, rotating inside a screen (60º inclusive screen angle). This principle achieves comminution by compression and shearing of the particles between the impeller and surface of the screen.
The Uni-Mill under-driven models are designed with an optimal, spacer-less gap (to avoid metal-to-metal contact); this offers a major benefit compared with over-driven conical mills where the distance between the screen and impeller has to be set manually using spacers (gap setting). This makes tooling changes on under-driven conical mills faster and easier by guaranteeing the closest possible gap every time. Other benefits of the Uni-Mill under-driven are the in-line inlet and outlet offering higher throughput, a more compact design and improved sanitary construction.
Size Reduction
All Hanningfield mills are available with a wide range of screen and impeller tooling, helping to achieve the various required final particle sizes and throughputs. Conical mills are typically suitable for size reduction down to approximately 150 microns (80 mesh) with minimal heat generation and are suitable for both dry and wet milling applications.
Construction
As standard, all contact parts are manufactured from 316L stainless steel (180 grit), with FDA compliant seals, gaskets etc. Non-contact parts such as frames, motor covers and control panels are manufactured from 304 stainless steel (150 grit). All standard materials of construction and surface finishes can be upgraded or downgraded upon request.
Customise Your Mill
Various mounting solutions are available (mobile frame, swing-arm, fixed post, hoist mounted etc.) and the mill can be customised with a selection of inlet and outlet configurations including hand-feed chute, valve assemblies, tri-clover connections, vacuum adaptors or any other bespoke design required for process integration.
The design can be modified to include optional upgrade features including autoclave adaptor kit (detachable mill-head for sterilisation), temperature monitoring, CIP, WIP, pre-breakers, nitrogen purging and ATEX execution where applicable. All equipment can be supplied with full validation documentation (FS/DS, FAT, SAT, IQ/OQ) and 3.1 mill certificates to EN10204.
Max Throughput (product dependant)
Screen Diameter
Standard Motor
Approx. Weight
Standard Speed
Lowest Achievable Particle Size
Approx. 150 microns (80 mesh)
Typical Noise Level
<78dB
Contact Parts
316L stainless steel (1.4404)
Non-Contact Parts
304 stainless steel (1.4301)
Country of Design
United Kingdom
Country of Manufacture
United Kingdom
Milling into Drum
The conical mill can be hand-fed allowing immediate discharge into the drum below (various methods of dust containment are available).
IBC to IBC Milling
By positioning a bin above the mill, and another bin below the mill, product is released from the top IBC, milled, and then passes directly into the bottom IBC.
Wet Milling (Post-Granulation)
Milling after granulation increases the surface area of the material. This enables a faster, more consistent drying process downstream.
Table Top Laboratory Scale Milling
The Uni-Mill M05-U is suitable for table-top use, such as those performed in R&D or lab scale applications. Product can be milled into bags, drums etc (containment available).
Isolator Milling
The Uni-Mill is suitable for isolator integration using our 'through-the-wall' design. This mounts the milling head inside the isolator, whilst keeping motor and controls external.