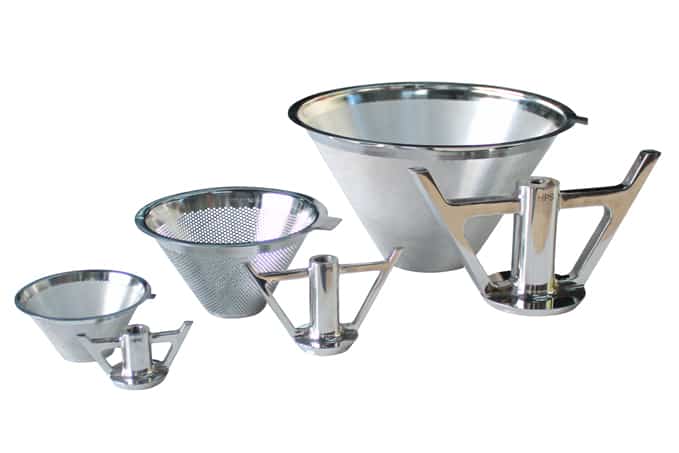 Mill it. Grind it. Size it. Calibrate it.
With over 35+ years experience in the design and development of conical mills, Hanningfield have consistently provided customers with solutions in scale-up milling applications. Over the years, we have helped customers to achieve consistent and repeatable PSDs in the production of OSD and APIs.
In many pharmaceutical milling processes, scaling-up production doesn't always go to plan. Varying material characteristics, different process conditions and larger batch sizes all contribute to potential unforeseen issues that can have a detrimental effect on overall throughput and performance.
Hanningfield offers a full range of cone mills which aim to help customers scale-up their milling process with minimum disruption and deviation. Our conical mill allows for repeatable and predictable results and is designed for full scalability from R&D laboratory to full large scale production.
As a customer's requirements increase, Hanningfield are able to offer a conical mill to service their specific needs.
Lab Milling
Hanningfield's lightweight and compact lab mills are perfectly suited for small-scale and trial applications. Typical applications include table-top use and isolator mounting.
Lab milling is the experimentation phase of product scale-up. It provides R&D with a platform to study and test material and its behaviour during conical milling. Lab mills offer customisable and interchangeable tooling, including screen hole size, screen hole shape and impeller type. This enables a number of changes to be made on a small scale, reducing cost as this limits the generation of waste materials.
Pilot Milling
Pilot milling provides the next step along the path to fully scaling-up your process. The stage allows for further investigation of a product at an intermediate scale before large amounts of money are invested in full-scale production. The aim here is to provide results which can be easily correlated to production lots, without the need for significant outlay of capital investment on machinery and precious ingredients. This milling application also proves ideal for customers who have smaller scale production runs.
Production Milling
Once the R&D and pilot stages of milling are complete, there should be a clear setup for production identified with an accurate forecast of PSD and milling machine capacity. Customers should now feel confident in their mill's ability to produce perfectly size-reduced material, or to successfully deagglomerate or de-lump substances ready for the next stage of production.
Listed below is our range of under-driven Uni-Mill cone mill machinery and the production applications they are suitable for.
> Uni-Mill M05-U: designed for laboratory and small scale applications. The cone mill features a 83mm diameter screen (3.25″), enabling throughputs up to ~200kgs/hr (425 lbs/hr).
> Uni-Mill M10-U: designed for pilot or low capacity applications. The cone mill features a 127mm diameter screen (5″), enabling throughputs up to ~400kgs/hr (850 lbs/hr).
> Uni-Mill M20-U: designed for a wide scope of production applications. The cone mill features a 203mm diameter screen (8″), enabling throughputs up to ~2000kgs/hr (4250 lbs/hr).
Uni-Mill M30-U: designed for large scale, high capacity production applications. The cone mill features a 306mm diameter screen (12″), enabling throughputs up to ~4000kgs/hr (8800 lbs/hr).
Get in Touch
Our team of experts have extensive knowledge in conical milling applications. Over the years they have provided a number of solutions to niche milling challenges.
If you would like to speak to one of our experts regarding your Scale-Up Milling application or would like a quote on one of our other products, send us a message using our Contact Form or call us on +44 (0)1702 549 777.
To keep up-to-date with the latest news from Hanningfield you can follow us on LinkedIn.