Vacuum conveyors provide a convenient and safe method for transferring powder in addition to automating and accelerating loading processes. Our vacuum conveyors are designed for sanitary applications in the pharmaceutical, food and allied industries.
Hanningfield provide many different options for helping customers make savings and efficiencies in their powder processing operations. Take a look at some examples below…
Vacuum Transfer Systems: Typical Applications
Transfer from drum to process machine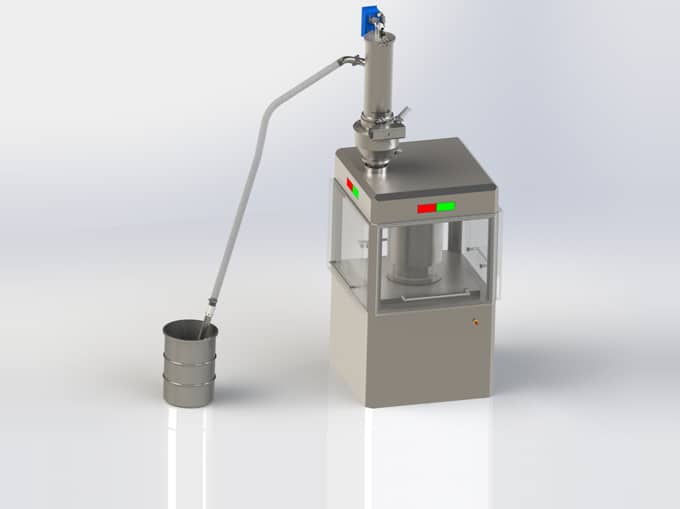 Finished powder can be sucked from the ground floor into the receiving hopper on the process machine. Once full, the outlet valve opens and discharges the material into the machine.
In-line vacuum milling or sieving 
In-line vacuum conveying through a mill or sieve is a fast and efficient method for powder transfer. In-line vacuum also improves containment and speeds up the conveying process.
Vacuum transfer into a vessel
Another common application is conveying material from a drum or IBC at floor level, up and into a mixing vessel. Containment, reduced waste and improved process times are all major benefits.
Vacuum transfer into a high shear mixer 
Powder can be conveyed from a drum to an IBC located at floor level, up to the mixer inlet. This system avoids manual handling and reduces process time.
Direct loading (into blender)
Direct loading reduces the number of moving parts and improves overall efficiency. This is achieved by reducing conveying times, as the system operates via continuous transfer (with no discharge or backwash sequence).
Material charges directly and continuously into the inlet port on the blender. 
Hanningfield provides an extensive range of options to fulfill various specialist requirements. 
Available options include: ultra sanitary construction. stainless steel filters, ATEX and nitrogen purging. All vacuum conveying equipment can be customised to suit any specific requirements. 
Get in Touch
If you would like to speak to one of our experts regarding our Vacuum Transfer solutions or you would like a quote for one of our products, send us a message using our Contact Form or call us on +44 (0)1702 549 777.
To keep up-to-date with the latest news from Hanningfield you can follow us on LinkedIn.